October 30, 2021 | Investing
Today, we're bringing you a Q4 2021 Market Update with LifeGuide Partner and Chief Investment Officer, Zak Lutz. What's going on in the market? What's the latest on inflation? Are we heading into a period of increased market volatility?
Great questions. Take it away, Zak!
Note: this video was originally published in our monthly client newsletter, Guidepost.
Upward & downward forces
To put the current market in context, I want to go back to a conversation Doug and I recorded in March of 2020 called "Don't Waste a Crisis." In the video, I likened the market to a life preserver being pushed underwater. Like a life preserver being pushed underwater, the market has had a lot of upward pressure on it.
Today, that "life preserver"—the market—has come rushing back up, far exceeding pre-pandemic levels. In fact, over the past 19 months, the S&P 500 has almost doubled from its low. The upward forces have indeed been very strong.
We are now seeing a shift where the upward forces are lessening, and the downward forces are building.  
Some of these downward forces include:
China's economy slowing down —Third quarter GDP came in under 5% at 4.9%, and concerns exist surrounding electricity shortages, credit defaults, and real estate issues.
Supply chain disruptions caused by events such as the Texas freeze, uneven COVID-19 global reopening, and disruptions in China.
Federal Reserve tapering their bond buying — The Fed signaled that they are going to cut back on the amount of bonds they are buying beginning in November. These bonds have been injecting cash into the system during the pandemic, which has kept interest rates low.
Other downward forces include the threat of higher taxes, a large federal deficit, and… inflation.
The biggest one of these downward forces is still probably inflation. Is this inflation "sticky" or flexible? We haven't had to worry about inflation for 30 years, and that is starting to change.
I recently attended the Kingdom Advisor Champions Conference in Philadelphia. During the conference, a small group of us got to talk with the long-time market expert, Bob Doll. (You can read his latest market commentary here.)
In our conversation, Bob reminded us that, although the downward forces are coming into focus, the upward forces are still very strong.
These upward market forces include:
Astronomical corporate earnings — The S&P 500 had earnings growth of 88% last quarter! Though these earnings will come down, they will likely still remain high.
Pent-up consumer demand — Have you tried to purchase a vehicle or furniture lately?
Strong personal savings rates — The most recent readings are just under 10%.
"The system is flush with cash" — Bob's words! The stimulus efforts have injected a lot of cash into the economy.
Some volatility is normal.
Once Bob finished laying out the upward and downward forces on the market, he said, "we are going to see increased volatility."
(As a side note, I always smile when market pundits use the word "volatility." It's usually their fancy way of saying they don't know where the market is going while still sounding smart).
I do think Bob is right, however. A return to more normal volatility is likely.
In any given year, the market usually gives us two 5% drops and one larger 10% drop. Over the past year, we saw a ~7% drop last October and a drop just over 5% this September. However, both rebounded very quickly, and we haven't had a 10% drop since the COVID-19 market bottom in March of 2020.
Because we've been in a period of relatively low volatility, a return to normal volatility may feel extra pronounced at first. Think about stepping onto a boat and how it can take a few minutes for the swaying sensation to feel normal. (For those of you who get seasick, please forgive the analogy!)
This increased volatility, however, is simply caused by a more balanced tug and pull between the upward and downward forces. This "tug and pull" is actually healthy for the market long-term as it prevents bubbles from forming. It gives us all a healthy respect for risks in the market.
In other words, risk and return are becoming more balanced.  
For some parting encouragement, Bob did share that he sees a greater probability the upward forces will prevail. We shall see! As we return to a more normal balance between risk and return, it's important to have a comprehensive financial plan and corresponding investment strategy—one that can capture the return the market gives us while being prepared to handle risk.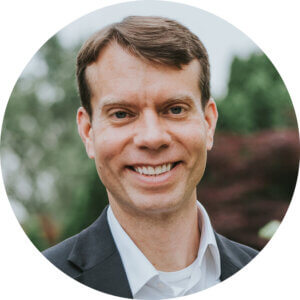 — Zak Lutz, CFP®, RLP®, CKA®
LifeGuide Partner & Chief Investment Officer