^
Our Take on Recent Market Volatility, and Enhancements to LifeGuide's Portfolios
February 6, 2018 | Investing
Last week, a number of LifeGuide's advisors had the opportunity to hear from a Wharton Professor, Vanguard, American Funds and other leading thinkers at TD Ameritrade's annual LINC conference.  There was a general theme of optimism about the overall economy.  The recent much-needed correction reminds us that stock growth isn't a sure thing especially in the short run.  This correction is a small retreat when compared to the superior growth of the last five years.  We must not forget that stocks contain risk.  They should be invested in with prudent caution in the context of a well thought out plan.
Corrections in the market do not have to be feared and should be expected.  They are healthy mechanisms which help prevent bubbles from forming and preserve the "equity premium" (the return that stocks provide above less risky investments).  If stocks didn't have their ups and downs, then no one would get rewarded for taking the risk of investing in them.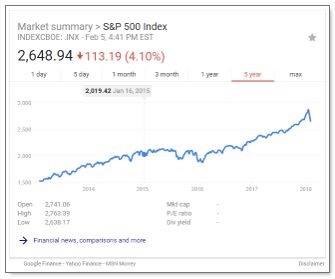 For further discussion about the equity premium, check out our blog post on this topic. https://lifeguidefa.com/blog/q3-perspective-a-walk-in-the-park-with-zak-and-his-dad
The recent market drop seems to be related to the increased chance of interest rates going up faster than expected because of last weeks strong jobs, wage, and earnings reports.  The reports are a classic "good news is bad news" situation. There is a concern that the Fed will increase rates more quickly to keep inflation in check.  Increasing interest rates tend to decrease the appetite for risky investments and drag down bond prices in the short run but increase yields in the long term.
As your LifeGuides and investment managers, we certainly cannot remove the uncertainty of the future, but we can help you prepare for it. We believe that having a comprehensive LifePlan provides an understanding of what your investments need to do for you and provides an essential foundation for any investing strategy.  As co-stewards of your investments, we continually look for ways to enhance our portfolios to support your goals and dreams. You may have noticed an uptick in the number of trades in your accounts.  In the coming weeks, we are going to describe the recent changes that we have implemented.
Here is a list of the portfolio enhancements and management techniques that we will be explaining.
LifeGuide's Rebalancing Process: Dynamic vs. Calendar and Global vs. Local
LifeGuide's Impact Portfolio Enhancements: Fund changes:  International fund replacement (lower cost), added emerging markets
LifeGuide's Blended Portfolio Enhancements: Implemented lower cost American Funds F3 shares, added Vanguard funds
LifeGuide's Passive Portfolio Enhancements: Fund changes: Upgraded to smart indexing through Dimensional Fund Advisors (DFA)
If you have any specific questions or concerns about your investments, do not hesitate to reach out to us.
The information provided does not constitute investment advice and it should not be relied on as such. It does not take into account any investor's particular investment objectives, strategies, tax status, or investment horizon. All material has been obtained from sources believed to be reliable. There is no representation or warranty as to the accuracy of the information, and "LifeGuide Financial Advisors, LLC" shall have no liability for decisions based on such information. View and opinions are subject to change at any time based on market and other conditions. Investing involves risk including the risk of loss of principal. Past performance is not indicative of future results. Index returns are unmanaged and do not reflect the deduction of any fees or expenses. Index returns reflect all items of income, gain and loss, and the reinvestment of dividends and other income. Diversification does not ensure a profit or guarantee against loss.