As of January 1st, 2014, having a Qualified Health Insurance Plan and/or plan offered by a "grandmother" extension became a requirement for every person. If Affordable Employer Coverage is not offered, employees are responsible to purchase insurance independent of their employers. Individuals not insured in 2015 face an Individual Tax Penalty equal to $325/person or 2% of his or her taxable income – whichever is greater. Resources regarding affordable coverage can be found here.
Annual Open Enrollment began November 15th, 2014 and ends February 15th, 2015. To ensure coverage effective January 1st, applications must be submitted to selected insurance companies by December 15th.
Health plans sold after January 1st, 2014 must include 10 Essential Health Benefits. These benefits include:
Ambulatory patient services (outpatient care)
Emergency services
Hospitalization (inpatient care treatment)
Maternity and newborn care
Mental health services and addiction treatment
Prescription drugs
Rehabilitative services and devices
Laboratory services
Preventive services, wellness services, and chronic disease treatment
Pediatric services, including dental and vision care
Additionally, Health Plans are now categorized by Metal Levels: Platinum, Gold, Silver or Bronze. Plan options also include a Catastrophic Coverage option for those under 30 or meeting specific hardship guidelines. Individuals newly eligible for Medicaid (below 133%) may qualify for Healthy PA or for traditional Medicaid benefits if assessed to be high-risk.
Premium Assistance exists for those making between 133-400% of the Federal Poverty Level – see the chart below for more information. In addition to Premium Assistance, individuals between 133-250% of the Federal Poverty Level may qualify for Cost Sharing Subsidies, which are reductions in deductible and out-of-pocket expenses. Individuals and families can apply for a Premium Subsidy (Advance Premium Tax Credit) and the Cost Sharing Subsidies through the Federally Facilitated Marketplace (FFM).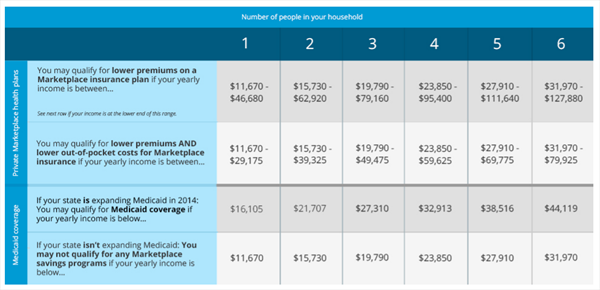 The best way to apply and evaluate coverage options is to contact a Certified Licensed Producer for assistance. Note: There is not an increase in cost if you choose to use a Certified Licensed Producer. Abby Conway at LifeGuide Financial Advisors is a Certified Licensed Producer – feel free to call her. She will be happy to help!